FREE SHIPPING OVER $35 / ORDERS SHIP 3 BUSINESS DAYS OR LESS! / SAME DAY SHIPPING $3.99
<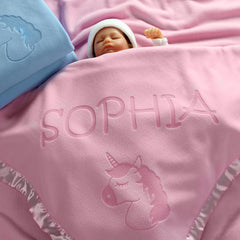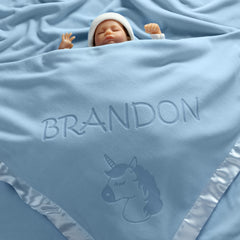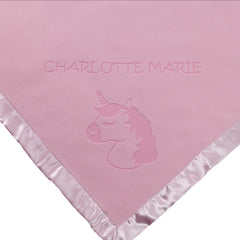 >
Unicorn Baby Blanket, One Line
$ 27.95
Every baby needs a little bit of magic in their life and introducing them to unicorns is a fantastic way to start. This pretty baby blanket will fulfill all of the baby's dreams of owning a unicorn before they even know what a unicorn is.

By getting a baby this blanket, you're keeping the spirit of imagination alive. As we get older, our imagination fades because we're becoming accustomed to everyday life, but babies and children can imagine whatever they want, unicorns included.

This blanket makes a fantastic gift, especially when the parents love all things fictional and magical. Still, you don't need to love all that stuff to love unicorns! They're adorable, and they are in so many children's stories. There's nothing better than wrapping your baby in a unicorn blanket and reading them a story all about unicorns.

This ultra-soft blanket fleece blanket is one of the best textures against your baby's sensitive skin, and any potentially rough edges are covered by satin. We want nothing but the best for your newborn. Our baby blankets are also exceptionally durable, so they will last at least until toddlerhood.

This design features a sleepy but cute unicorn and one line of custom text. The writing will be in all capital letters, and it's the perfect font for a baby blanket. In the one line of text, the most common customization people include is the baby's name, but instead, you can add their birth date or any other custom text.

Features:
-Comes in pink and blue
-36 inches by 36 inches in size
-One line of customization
-Made of 200 gsm fleece with a satin trim
-Unicorn design
-Durable and will not fade

Fill your beautiful baby's life with magic. Order this mystical blanket today, and we'll miraculously ship it to you in just a day or two.