FREE SHIPPING OVER $35 / ORDERS SHIP 3 BUSINESS DAYS OR LESS! / SAME DAY SHIPPING $3.99
<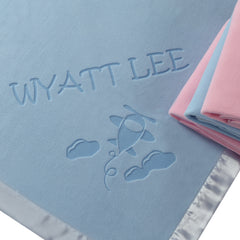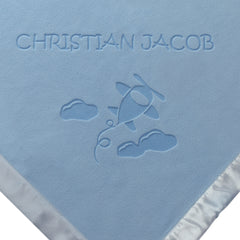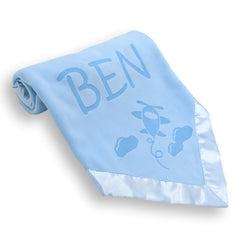 >
Airplane Baby Blanket, One Line
$ 27.95
Celebrate the newborn in your life with this customized baby blanket! The soft material will keep your baby warm from the moment they're born well into their childhood. Bring them home in a blanket in which they will feel safe.

This long-lasting and durable blanket will keep the memory of their birth alive. You'll always have a physical reminder of the day you brought them home. It also makes the perfect baby shower, birth, or welcome home gift for a new parent.

You can use the blanket for comfort, as décor, or you can cherish it as a keepsake. It also works as an excellent prop for newborn photo shoots. Take a photo of your child with the blanket every year and watch them grow.

The blanket is made out of fleece which is a soft and comforting texture for babies. The satin trim prevents any rough edges from making your baby uncomfortable. The blanket is durable, just like the design and customization.

The airplane design is more casual, and it's also very cute! It's a great design that any baby would grow to love as they become a toddler. You can get the blanket in either blue or pink. Of course, you also need to customize it!

This blanket holds one line of custom text which is perfect for a name or birth date. The font completes the entire design. It will look like your customization was a part of the blanket all along.

Features:
-Comes in pink and blue
-36 inches by 36 inches in size
-One line of customization
-Made of 200 gsm fleece with a satin trim
-Airplane design that is embedded in the fleece material
-Durable and will not fade

Let this blanket become a staple in your baby's childhood memories. It's an item that they will be able to use for years to come.