FREE SHIPPING OVER $35 / ORDERS SHIP 3 BUSINESS DAYS OR LESS! / SAME DAY SHIPPING $3.99
<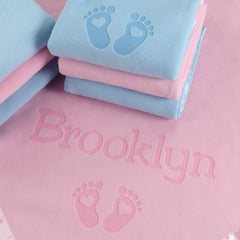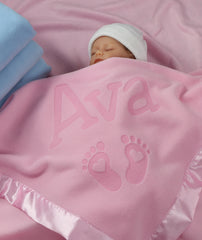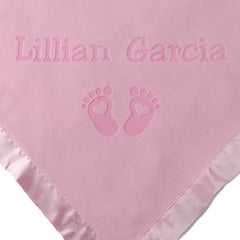 >
Personalized Newborn Blanket with Hearts and Feet, One Line (Pink and Blue)
$ 24.95
This heartwarming blanket is what any newborn and their parents would love. Whether you're the expecting parents or looking for a gift for any occasion, you cannot go wrong with this customized blanket.

Every baby needs a blanket, but not all blankets are created equal. At Custom Catch, our blankets are durable, and they will last for years when properly maintained. That means you'll have a reminder of that special moment in your child's life for a very long time.

Get creative with how you use this blanket. Of course, the super-soft fleece will keep your baby warm when you use the blanket for its original purposes, but it can do more than that. You can also use it as décor, a photo prop, or a keepsake.

The feet and heart design is a beautiful representation of your love for the newest addition to your family. The design features two hearts, one to represent each parent. You've given all of your love to this baby, and you can show that through this blanket.

On this blanket, you can include one line of text that says whatever you want. Typically, people customize it with the baby's name, but you can also put their birthday, birth weight, or anything else!

Features:
-Comes in pink and blue
-Feet and heart design
-One line of custom text
-200 gsm fleece and satin trim
-36 inches by 36 inches

Every baby will love the texture and comfort they find in this blanket, and every parent will love the design. Buy it today and have it for years to come.