FREE SHIPPING OVER $35 / ORDERS SHIP 3 BUSINESS DAYS OR LESS! / SAME DAY SHIPPING $3.99
<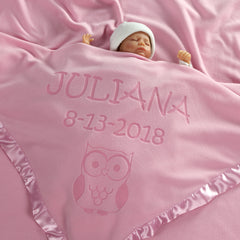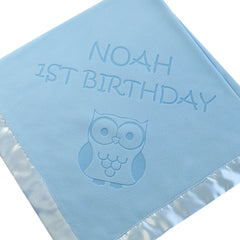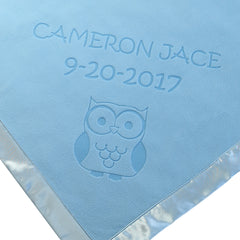 >
Owl Baby Blanket, Two Lines
$ 31.95
You have high hopes for your new baby. You want them to be kind, successful, and intelligent. That means you need to get them started on the right path from the beginning. Instill them with the wisdom of an owl by tucking them in with this baby blanket every night.

Use this blanket as a daily reminder that your baby is destined for greatness, and you get to help them achieve it. After you wrap it around them, read to them and help their minds grow. This may even be the blanket they take with them on their first day at Harvard.

There are several ways you can utilize this blanket in your home and over the years. Using it as a baby blanket is always a good idea, but when your baby is not using it, you can show it off as home décor. Place your newborn on top of it and take a photo every month to track their growth. Eventually, you can tuck it away as a keepsake for when they're older.

You can order the blanket in either pink or blue, and it's made out of a beautiful fleece material. The edges are lined with a satin trim leaving the blanket completely soft to the touch. The baby's sensitive skin will love the texture.

This design includes two lines of custom text to be placed above the owl's head. The custom text allows you to include the baby's name or initials in the design. You can also add their date of birth, middle name, or the city where they were born. The font is fun and kid-friendly, so they will still love this blanket when they grow up and become toddlers.

Features:
-Comes in pink and blue
-36 inches by 36 inches in size
-Two lines of customization
-Made of 200 gsm fleece with a satin trim
-Owl and text design
-Durable and will not fade

Set your new baby up for success. Order this baby blanket today, and you'll have it in your hands before you know it.