FREE SHIPPING OVER $35 / ORDERS SHIP 3 BUSINESS DAYS OR LESS! / SAME DAY SHIPPING $3.99
<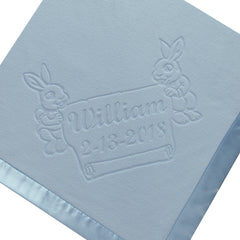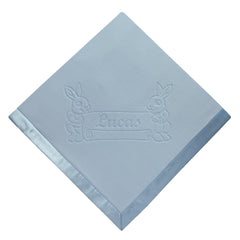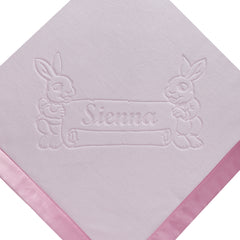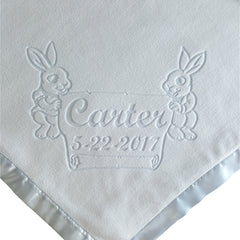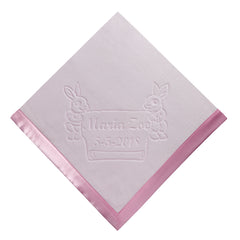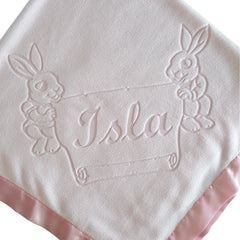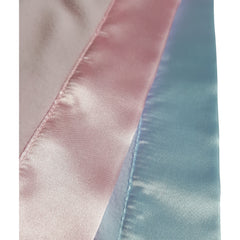 >
Large Baby Blanket With Bunnies, One Line
$ 34.95
Talk about a birth announcement! Nothing can introduce a newborn like two adorable bunnies and a regal scroll. Can you imagine the pictures you'll be able to take with this baby blanket wrapped around your little one? You'll cherish those photos forever.

Of course, this blanket isn't only for newborns. Please don't think your baby needs to be new to this world to fall in love with this blanket. Babies and toddlers will love the warm fleece material too. They will feel safe and loved when they are surrounded by the blanket you gifted them.

Plus, this blanket would be a show-stopper at any baby shower or birthday party. If you're not gifting the blanket, you can use it as home décor in the baby's room or as a keepsake for them to appreciate when they're older. Some parents have even used their blankets as a photo prop.

The design is the largest and most detailed design we have available. The two bunnies holding the scroll with your customization on it look so happy to be able to help introduce your baby to the world. It would be charming to say that the bunnies represent the parents because one bunny is a boy and one's a girl.

For this design, you get two lines of text. They're both a beautiful script font that fits perfectly on the scroll. You can put the baby's name on the first line and their date of birth on the second. We will customize this blanket specifically for them to treasure for the rest of their life.

Features:
-Comes in pink and blue
-36 inches by 36 inches in size
-Two lines of customization
-Made of 200 gsm fleece with a satin trim
-Large design featuring a scroll and two bunnies
-Durable and will not fade

You'll regret not having a custom baby blanket made in a few years once they've outgrown the need for it. This could be the item they take with them for the rest of their lives—order one today.