FREE SHIPPING OVER $35 / ORDERS SHIP 3 BUSINESS DAYS OR LESS! / SAME DAY SHIPPING $3.99
<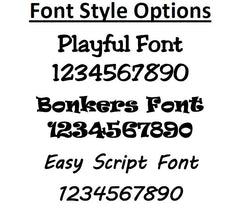 >
Shamrock Personalized Dog Collar
$ 16.95
St. Patrick's Day is coming up quickly, and you just found a pot of gold! One day doesn't seem like enough of a celebration for St Pattys, so why not celebrate for the whole month of March? Custom Catch has created an easy way to stay in the holiday mood all month long.
We have a new and festive dog collar design that any leprechaun would love. You can now add shamrocks! The moment you pair our new design with the green collar, you'll have the most stylish and Irish dog on the block.
Our dog collars are entirely customizable. You can add your dog's name and your phone number in between the shamrocks. Choose your font, the color of the collar, the shamrock design, what size you need, and you're ready to celebrate.
The color green and shamrocks aren't only for the month of March. Keep your dog lucky for as long as you want. This collar will never go out of style, and it will last for a long time. Plus, you can show off your heritage if you have any Irish in you!
Order soon so you can have your collar by St. Patrick's Day. Your order will typically be shipped the day after you place it, but it still takes a few days for it to arrive once we ship it. Don't wait to reach the end of your rainbow. Order your shamrock collar today!
Your pup deserves the finest accessories for St. Patrick's day!
Features:
Safety

 

- Keep your pup safe with the addition of a phone number and/or important medical information.
Style

 

- Dress your furbaby up with the right collar for the occasion.
Quality

 

- Genuine, high-quality leather and durable hardware means your dog will break free less and your collar will last a long time.
Guaranteed

 

- Buy with confidence knowing that we will happily exchange or refund your purchase in full if you are not happy with your purchase.
Sizing:
X-Small

 

(XS) - Length 8.5-11" - Width 1/2"
Small

 

(S) - Length 11.5-14" - Width 3/4"
Medium

 

(M) - Length 14.5-17.5" - Width 1"
Large

 

(L) - Length 18-22" - Width 1"
For a proper fit, measure your dog's neck with measuring tape. Pull the tape snug but not tight. Allow sufficient room to slip two fingers between the collar and the dog's neck.