FREE SHIPPING OVER $35 / ORDERS SHIP 3 BUSINESS DAYS OR LESS! / SAME DAY SHIPPING $3.99
<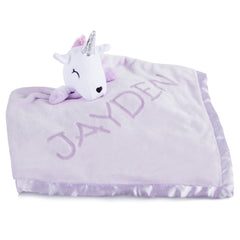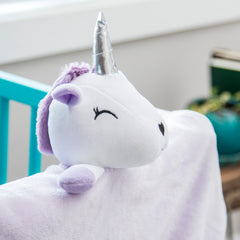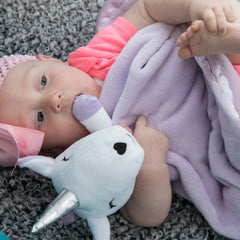 >
Plush Unicorn Baby Blanket for Girls: Super Soft Blanket with Unicorn Pillow Top
$ 27.95
HUGGABLE UNICORN BLANKEY: Designed with your little princess in mind, our mini unicorn blanket has a sparkly horn, adorable heart shaped nose, lush purple mane, and two little legs ready for hugs
CUSTOMIZABLE BLANKETS: Make this baby blanket one of a kind by personalizing it with the name of your baby girl embossed on the fleece fabric; we offer rapid one day customization for your convenience
ADORABLE NURSERY DECOR: Our fluffy unicorn blankets are a calming purple and look magical in any nursery, bedroom, or playroom; use as a security blanket for your baby or as an adorable photo prop
THOUGHTFUL KEEPSAKE: Celebrate the birth of your little girl by getting a fluffy personalized blanket with her name or get one as a thoughtful baby shower gift that future parents can keep and cherish
SAFE FOR SNUGGLES: Made from soft fleece and lined with silky satin, our plush unicorn blanket is gentle against your baby's skin so they can snuggle, cuddle, and hug their blankey as they fall asleep
HUGGABLE UNICORN BLANKEY 
Every little girl dreams of having a unicorn, so let us help you make her dreams come true with their own fluffy unicorn blankets! Designed with love and magic, the Custom Catch unicorn blankets feature a snow white unicorn head with a fuzzy purple blanket body. The unicorn has a purple mane that matches the attached purple blanket, and your little girl will be completely enchanted by the unicorn's mystical silver horn and cute heart nose! 

CUSTOMIZABLE BLANKETS 
Looking for the perfect baby blanket for your perfect baby girl? These blankets are completely customizable to be a unique keepsake for your little one. We can emboss the name of your child on the fleece fabric in a unique font to create a custom, one of a kind blanket! We offer quick, one day customization so you get your personalized blanket faster. 

ADORABLE NURSERY DECOR 
Whether it's for a newborn child, toddling toddler, or any little girl who loves unicorns, this blanket will capture the hearts of anyone who holds it. This blanket is a wonderful addition to any nursery, bedroom, or playroom and can be used as "baby's first blanket," security blanket, and childhood memorabilia. 

THOUGHTFUL KEEPSAKE 
This blanket is extra fluffy, extra magical, and extra cute so everyone will love it! Get one yourself to celebrate your little girl or add it to your registry so a friend or family member can give your baby a thoughtful gift. You can also customize one for someone you know who's getting ready to welcome their own child into the world. 

SAFE FOR SNUGGLES 
Parents can be fully confident in the quality and safety of our blankets. Each blanket is crafted from ultra soft purple fleece and lined with a silky satin border material that is safe for babies, toddlers, and young children. Kids can snuggle and hug their new favorite blanket during storytime or as they drift off to dreamland.