FREE SHIPPING OVER $35 / ORDERS SHIP 3 BUSINESS DAYS OR LESS! / SAME DAY SHIPPING $3.99
<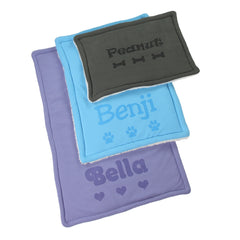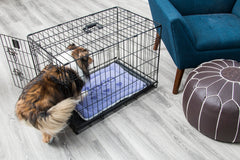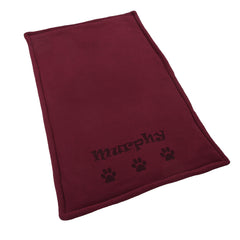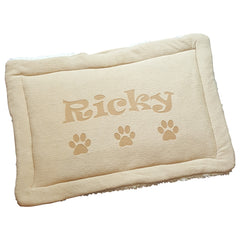 >
Personalized Dog Nap Mat with Design
$ 24.95
PERSONALIZED DOG NAP MAT with hearts, bones or paws design, XL, Large or Small cushion
BEAUTIFULLLY IMPRINTED WITH YOUR PET"S NAME – Dog, Cat, Ferret, No problem, all pets love these comfortable mats
5 MAT COLORS AND 4 CUTE TEXT STYLES – Purple, Grey, Maroon, Beige, Blue
SOFT HAND CUSTOMIZED AND MACHINE WASHABLE CUSHION
PICK YOUR FAVORITE DESIGN - a welcoming addition to your crate, carrier or couch
Dimensions:
Small size measures 15.7 x 23.6 inches
Large size measures 23.6 x 31.5 inches
XL size measures 42 x 28 inches
With the Custom Catch personalized dog nap mat, your dog or cat's name will be permanently imprinted on their favorite soft, cozy place of rest and relaxation. Pick from Purple, Grey, Maroon, Beige, or Blue pads colors and add the text you want! This dog kennel mat in large or small size is a super cute way to keep your pet happy.
Select a font that shows everyone your pet's personality. This personalized dog bed or cat bed is an ideal cushion to fit crates, carriers, doghouses, floor, window sills and other nap spots.
This pet bed mat features a rectangular shape and fits most crates under 42 inches in length. A reversible bed made from high quality fleece and having plenty of fill to provide a comfy sleeping spot for your favorite furry friend.
Delivering beautifully personalized dog beds that are both elegant and easily maintained is our goal. Machine Washable for simple care.
Perfect for crates or as a standalone bed mat. Keep your dog or cat cool in the Summer, warm in the Winter. Uses - kennel, crate, carrier, car seat, dog house or a mat on the floor. Beautifully imprinted – pet's name in your choice of fun and original fonts.
Thick hand customized cushion. A lightweight travel mat that can be rolled up and taken with you on every trip. Personalized showpiece kennel pad has a softness that pets gravitate to. Colors help hide shedding, while giving you the options to match your home décor. A 100% polyester fill cushion offers superb support underneath your pet's body and is particularly soothing for stiff joints.
The Custom Catch personalized dog and cat kennel mat creates a welcoming spot for your pet whether at home or spending a weekend away. Keep your pet feeling comfortable and relaxed wherever you go with the Custom Catch bed mat--because your little pal deserves nothing less than the best.