FREE SHIPPING OVER $35 / ORDERS SHIP 3 BUSINESS DAYS OR LESS! / SAME DAY SHIPPING $3.99
<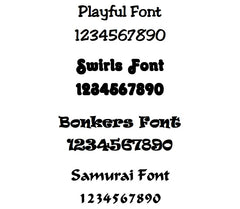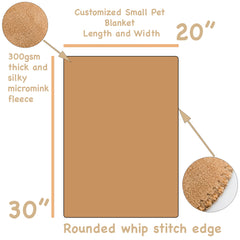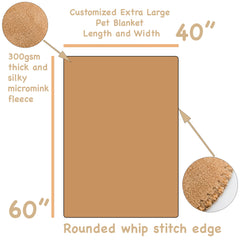 >
Personalized Dog Blanket
$ 22.95
Dog blankets may seem like a luxury item for your pet, but they are a necessity. While it will bring your dog comfort and warmth, it can also help reduce the amount of pet hair in your home. Our blankets are unique because hair and dander won't stick to them, making them very easy to clean.
You can shake off any pet hair, or you can toss the blanket in your washer and dryer whenever it needs a freshening up. Don't worry about the design and customization fading or coming off in the washing machine. The image is etched into the fleece with a laser to increase the blanket's longevity.
Use our blanket as an actual blanket, or as a chair cover, it doesn't matter! Your dog might want to cuddle underneath, or they could prefer to sit on top. Either way, this blanket can be used in your car, on the couch, and your favorite chair. It will protect your furniture from pet hair and any damage caused by their nails.
This soft fleece blanket comes in three sizes; small, large, and extra-large. We want even the largest of man's best friend to be warm and comfy. It comes in grey and tan to fit the color scheme of any room and hide most colors of pet hair.
You're able to upgrade this high-quality blanket even further with a personalized design. You have up to 15 characters and four different font options to include your pet's name. Don't forget to add paws, hearts, or bones to your design. They'll add the perfect touch to your new pet accessory.
This blanket is an excellent complement to our customized pet mats. Pair them together to make your adorable pet feel like royalty!
THICK AND SILKY - Super comfy and luxurious 300 gsm micro-mink fleece
HAIR DOESN'T STICK TO IT - Silky surface helps to shed hair with a quick shake of the blanket
PERSONALIZED FOR YOUR DOG - You favorite dog's name permanently featured on the blanket so everyone know's which spot they prefer for their best snooze
AMAZINGLY COMFORTABLE - Your dog or puppy will be napping in style when they cozy up on this incredibly soft blanket
EASY CLEAN - Just throw it in the washer and dryer - no problem
DURABLE - The whipstitched edge will keep this dog blanket looking great for years to come
GREAT PROTECTION FOR FURNITURE OR CAR - The ideal way to keep your furniture or car seat in great condition