FREE SHIPPING OVER $35 / ORDERS SHIP 3 BUSINESS DAYS OR LESS! / SAME DAY SHIPPING $3.99
<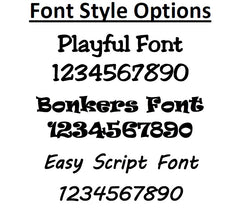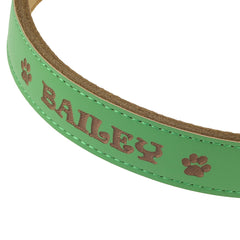 >
Personalized Dog Collar - Engraved Soft Leather
$ 24.95 $ 18.95
Are you tired of hearing the constant jingling or your dog's tags? We don't blame you. Maybe you want a new and escalated collar for your pup. We get that too. No matter your preferences, these are the perfect dog collars for you. They're completely customizable!
They're made with a leather collar and a metal buckle. Their durability surpasses any of the plastic and nylon used in a standard collar. The buckle is especially important. Unlike plastic clasps, the metal buckle will prevent your beloved pet from breaking the lock and getting off the leash.
We have collars to fit all types of dogs. They range in sizes from an 8.5-inch diameter to a 22-inch diameter. If you need help figuring out what size to get, wrap a string around your dog's neck to the fit you want for the collar. Then all you have to do is measure the string.
The highlight of these dog collars is how customizable they are. Each one can fit up to 25 characters. That's enough room for a name, phone number, and even a notable medical condition. All of the information is large and easy to read, even from a distance.
All four of the fonts are adorable and legible. You have your choice between a colorful font or a bright collar. Either way, the personalization is engraved into the leather so it will never fade or become indecipherable. The colorful collar's design can also include hearts, paws, or little dog bones!
Your pup deserves the finest accessories. Take a look through all of the product options and choose a collar that will last you for years to come.
Features:
Safety - Keep your pup safe with the addition of a phone number and/or important medical information.
Style - Dress your furbaby up by choosing from a variety of fun color and design options.
Quality - Genuine, high-quality leather and durable hardware means your dog will break free less and your collar will last a long time.
Guaranteed - Buy with confidence knowing that we will happily exchange or refund your purchase in full if you are not happy with your purchase.
Sizing:
X-Small (XS) - Length 8.5-11" - Width 1/2"
Small (S) - Length 11.5-14" - Width 3/4"
Medium (M) - Length 14.5-17.5" - Width 1"
Large (L) - Length 18-22" - Width 1"
For a proper fit, measure your dog's neck with measuring tape. Pull the tape snug but not tight. Allow sufficient room to slip two fingers between the collar and the dog's neck.