FREE SHIPPING OVER $35 / ORDERS SHIP 3 BUSINESS DAYS OR LESS! / SAME DAY SHIPPING $3.99
<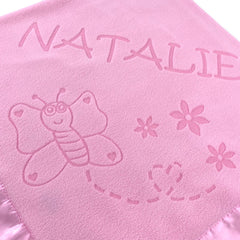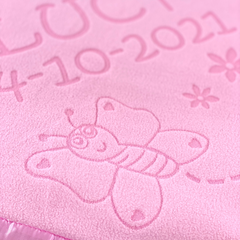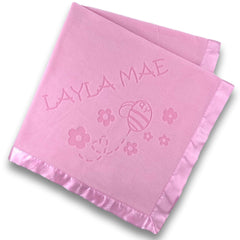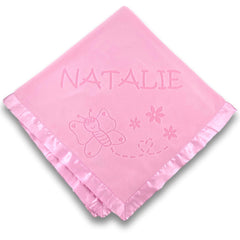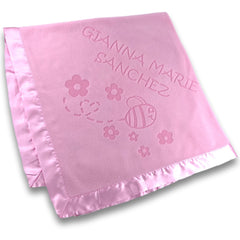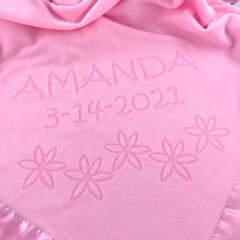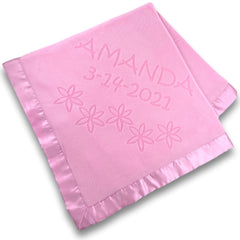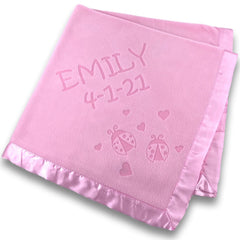 >
Personalized Flowers and Bugs Pink Baby Blanket
$ 24.99
Our baby blankets will be your baby's first line of defense against the cold and any discomfort. Baby blankets are an essential item for new parents, but you can't choose any baby blanket off the rack. Some of them can be itchy or rough on your baby's skin. Don't worry; you won't have that problem with any of our blankets.

Custom Catch's baby blankets are made of high-quality fleece with satin trim. They're durable, and they'll last for years. Your baby will be a toddler before you know it, but their blanket will stay the same. It will be in their life as a comfort item for years to come.

Your baby can use it however they please, but this blanket has a variety of other uses. Our custom baby blankets have been used as baby room décor, keepsakes, and as photo props. Using it as a photo prop adds an adorable and unique aspect to newborn photos. As your child gets older, you can continue to use the blanket in pictures to show how much they've grown.

This blanket is really special because you have the option of four unique designs. The first is our "Flowers" design. Five pretty flowers are etched into the fleece right under your custom text. The next design is "Bee." The design is a cute little bee buzzing around a bunch of flowers.

"Butterfly" is the third design, and it features a loveable butterfly surrounded by flowers. Finally, the last design is "Ladybug." Two ladybugs are etched into the blanket and surrounded by a ton of hearts and your custom text. It's so sweet and sincere. Everyone will love it.

All of the designs allow you to add two lines of custom text. You can add the baby or toddler's name in the first line, and then the second line is entirely up to you. Our customers have added the baby's middle name, birthday, and even where they were born. Still, you can incorporate any information you want.

Features:
-Comes in pink and blue
-Flower, Bee, Butterfly, and Ladybug designs
-Two lines of custom text
-200 gsm fleece and satin trim
-36 inches by 36 inches

It's never too late to give the gift of comfort. You can only find these custom designs at Custom Catch, so order one of these designs today! It will be at your door before you know it.