FREE SHIPPING OVER $35 / ORDERS SHIP 3 BUSINESS DAYS OR LESS! / SAME DAY SHIPPING $3.99
<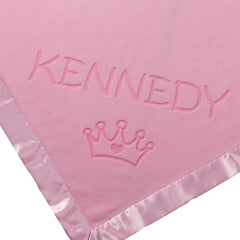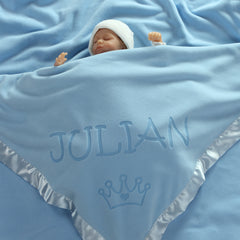 >
Crown / Princess Baby Blanket, One Line
$ 27.95
This isn't just any baby blanket; it's a baby blanket made for royalty. Once they're born, everyone will start to fawn over your new addition. So, you might as well have them prepared for the occasion. Since they can't hold their head up to wear an actual crown, a crown on their baby blanket will have to work.

Our baby blankets are super soft to suit your princess and durable enough to withstand any prince. You can buy it for your own child, or you can give it as a gift. It will be a lasting reminder to the new parents that they are not in charge anymore. That little bundle of joy is royalty and should be treated that way.

The blanket is a great gift, especially for godparents to give, but it can be so much more than that. This design is begging to be a part of a newborn photoshoot or to be hung as décor in a baby princess's room.

When we say we make it for royalty, we're not kidding. The blanket is made of incredibly soft fleece, and the edges are entirely lined with satin. Every inch of it feels comfortable and luxurious. We etch the crown and heart design into the fleece. The design will last as long as the blanket does.

You can also include one line of custom text. This can let you add your baby's name to the blanket, right above the crown, so no one steals their thrown. You might even be able to include their first and middle names!

Features:
-Comes in pink and blue
-36 inches by 36 inches in size
-One line of customization
-Made of 200 gsm fleece with a satin trim
-Crown and heart design
-Durable and will not fade

Give your baby the finer things in life and get them their crown early. Place your order today.