FREE SHIPPING OVER $35 / ORDERS SHIP 3 BUSINESS DAYS OR LESS! / SAME DAY SHIPPING $3.99
<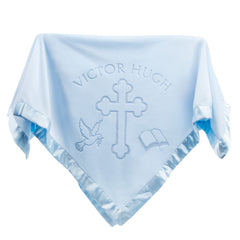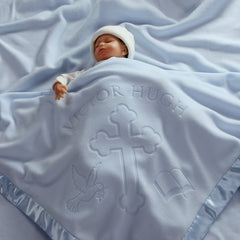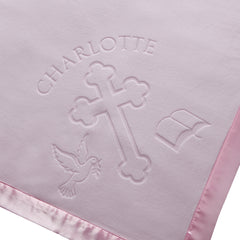 >
Baptism / Christening Baby Blanket, One Line
$ 25.95
By the time a newborn's baptism or christening rolls around, they have been showered with gifts from everyone they know. They'll get gifts for the baby shower, birth, and a bunch of just because gifts. So, what do you get a baby who has everything? You give them the item they never knew they needed.

Our baptism or christening baby blanket is the perfect gift to welcome any newborn into the church. The fleece material is soft even to the baby's touch, and it will never irritate their skin. We cover the edge of the blanket with satin, so there are no rough or unfinished edges.

Whether you're a new parent, a new godparent, or even just a friend of the family, this blanket will be cherished by the baby for years to come. It will always be a reminder that someone is looking after them and that they are blessed in the eyes of God.

You can use this baby blanket as a blanket or as a piece of baby room décor. You can also save it as a keepsake. Create a beautiful box filled with a bible, notes from the baby's family, baby pictures, and this blanket. Save it for them until another special occasion in the church, like their confirmation.

This blanket comes in either pink or blue, and you can include one line of custom text. Make this blanket entirely theirs by adding the baby's name to the design. Please don't be shy; include their middle name too! The custom text looks beautiful placed above the cross, dove, and book design.

Features:
-Comes in pink and blue
-36 inches by 36 inches in size
-One line of customization
-Made of 200 gsm fleece with a satin trim
-Design is etched into the fleece
-Durable and will not fade

Let the newly baptized or christened baby enjoy their life under the eyes of God while wearing the perfect blanket for the occasion. Order your custom blanket today.